An image of Wilson Stribling, Barbie Bassett and Patrick Ellis standing behind the WLBT news desk.  (Instagram/Barbie Bassett ) A white mete...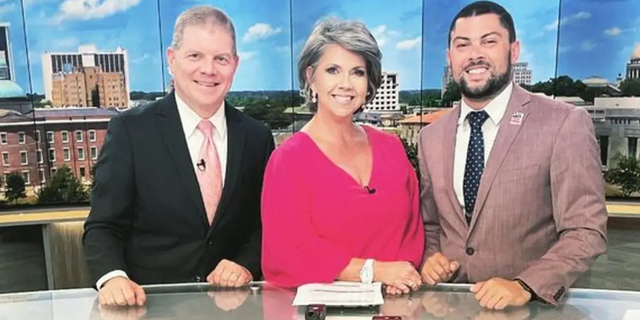 A white meteorologist who followed a story about Snoop Dogg with the rapper's famous "fo shizzle, my nizzle" phrase on March 8 has not been on the air at Mississippi station WLBT since then.
According to Deadline, Barbie Bassett, who is also a longtime morning anchor at the NBC affiliate, was chatting on-air with her colleagues after a news report about Snoop Dogg adding a California Sauvignon Blanc to his Cali Wine Collection. When someone raised the idea of a wine collaboration with a fellow journalist, Bassett replied, "Fo shizzle, my nizzle" — the last word being Snoop Dogg's well-known slang for the N-word.
WLBT, whose morning show generally tops the ratings in the Jackson market, has not given any reason for Bassett's disappearance. On-air employees declined to comment, saying questions about her absence are for management to answer, The Mississippi Clarion Ledger noted.
In a message on social media, Ted Fortenberry, the station's vice president and general manager, also had no answer on Bassett's status, saying, "WLBT is unable to comment on personnel matters."
However, Bassett's bio is no longer included in the "Meet the Team" section on the station's website, according to the Clarion Ledger. The anchor also has not commented publicly on her situation, though she has removed any reference to the station from her Facebook page, which has not been updated since March 8.
Adding to speculation that she is no longer with the station is the fact that Bassett — who was WLBT's first chief meteorologist — shared nothing on social media over the weekend as a deadly tornado hit the region, according to Deadline. The Clarion Ledger says she is usually a frequent commenter and has 51,000 Facebook followers and 16,000 on Twitter.
Comments on social media about Bassett's absence were mixed, with some observers critical of the anchor's remark, and others saying the station is overreacting.
The March 8 incident is the second time in recent months that Bassett has stirred controversy on the air. She was reprimanded In October after she used "grandmammy" to refer to a Black reporter's relative. For that, she apologized and asked for forgiveness, according to The Clarion Ledger.
She released a statement that said in part, "I now understand how my comment was both insensitive and hurtful" and declared, "I will learn from this."